Executive Protection
At Instinct Protective, we understand the importance of personal safety and the peace of mind that comes with it. Executive Protection is taken very seriously and something we make sure is done right every time. Walking out of your home without a care in the world, speaking openly with friends, and attending public gatherings without second-guessing everything is a freedom we should all have. Unfortunately, as a corporate executive, celebrity, or VIP, this dream can often feel out of reach.
For high-level individuals, being in the public eye often feels like walking on thin ice, where one misstep is all it takes to slip and sink. Additionally, with the emerging threats that come with advanced technology, navigating danger on your own can often feel like a nightmare.
Fortunately, things do not have to be this way. At Instinct Protective, we provide various armed and unarmed services that allow you freely move around events, residential areas, and business meetings with the knowledge that your safety is our top priority. Our highly-skilled team acts as the first and last line of defense, standing in the way of any threats and allowing you to focus on the necessary things in life.
With us at your side, you can say goodbye to constantly having to look over your shoulder, or worry about your safety, as our team of experts will always put your security first. So, why let fear stand in the way? Take control of your life by reaching out to us or dropping a message. Our team will be happy to answer any questions you may have.
Who is Executive Protection For?
While we will always believe that everyone has a right to personal safety, we also understand that certain individuals require a higher level of protection than others due to their high-value assets or public status. At Instinct Protective, we have tailored our services to meet the needs of these individuals by offering protection to: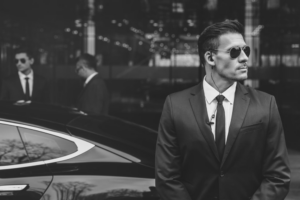 Foreign dignitaries
Public figures
VIPs
Corporate executives
Other high-net-worth or high-level individuals
People in this group tend to be at a greater risk of armed robberies, kidnappings, physical harm, and other criminal acts. So, ensuring they have a high level of protection is crucial to their safety. At Instinct Protective, we focus on providing a professional service that meets you where you are by delivering flexible security offerings that always fit your needs.
Our team of experts is also well-versed in balancing your protection and the needs of your social status. So, those seeking corporate executive protection can remain confident that our security professionals will blend into your life seamlessly, allowing you to conduct your business without feeling like anything has changed.
What We Can Provide
One of the things that make Instinct Protective the best executive protection company you can find is that we always tailor our offerings to the needs of our clientele. So, while we offer an expansive range of services such as transportation security, surveillance and assessments, threat intelligence, and static security, you are free to pick and choose what you want based on your lifestyle.
As an illustration, a celebrity or VIP might opt for our transportation security service. This package allows you to freely move around without breaking a sweat about who or what may be following you, as our team of experts will always ensure that you get to your destination safely.
Meanwhile, government officials speaking before hostile crowds often benefit from our threat and risk assessment intelligence offering. With this service, our team will scout ahead for aggressive or dangerous behavior and deal with the threat before you step out the door, allowing you to focus on the event without any interruptions.
In either case, no matter what security challenges you have, we've got you covered. So, why let fear and danger call the shots? Contact Instinct Protective today for a consultation about our executive protection service and any other combination of services that might benefit you and your organization.