Event Security
What Is Event Security?
It's a form of service that you can use while planning an event to deal with the security and safety aspects of that event venue. Event security focuses on ensuring the safety of attendees and crew while safeguarding the venue and property. These services handle various aspects, including security strategies, threat and vulnerability protection, risk assessment, and more. The security service involves well-trained professionals who can respond to emergencies appropriately.
What's the Importance of Event Security?
When you're hosting a big event, you take on a degree of responsibility for your attendees. As the event host, you ought to foresee potential threats and provide solutions to ensure your guests' safety. Hiring an event security provider is beneficial in numerous ways. A professional team of guards can detect potential risks — fans that want to trespass into the building or individuals collaborating to harm guests — and take the necessary measures to remove the attackers or evacuate the protectee.
Trained protection staff also have the expertise to take care of emergencies during top-level events. They often work as a deterrent, discouraging possible trespassers before they strike. They can also ask a suspicious person to step aside and conduct a security check.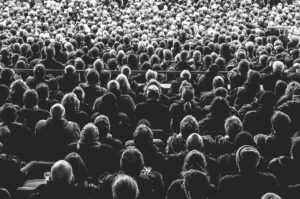 Events that Benefit from Hiring Event Security Services
Concert (indoor & outdoor)
Concerts usually involve massive crowds with intensified emotions. It might lead to the need for an additional alert security team qualified to spot the warning signs of possible dangers before catastrophe ensues. Having a well-equipped security staff on site is the best recipe for a concert event that's fun and happy for both artists and attendees.
Sporting Events
Emotions usually run high during sports, particularly when hosting a sporting event between rival teams. Such occurrences demand additional security measures, such as protecting the actual players and keeping the fans well-behaved. Professional guards will also have CPR and first aid training to help with any potential injuries that might arise.
Conventions
Since business conventions often occur over multiple days in different venues, considering multiple levels of security helps run things smoothly. Convention security services may include ushering services, VIP bodyguards, private drivers, and general event staff.
Most Other Events
Reliable event security services offer advanced planning, event crowd control, risk analysis, issue prevention, and, in some cases, crisis response. A good management team has the relevant skills and expertise to organize the event security process and collaborate with the client. A well-trained staff that's polite and professional will ensure the safety and security of each of your event attendees.
Armed vs. Unarmed Security: Which Is Better?
Unarmed security guards don't carry firearms, but they might carry other non-lethal weapons for security, such as pepper spray, a baton, or even a Taser. They are also frequently hired for low-risk jobs, such as jobs in schools, retail establishment monitoring positions, and video surveillance positions.
On the other hand, armed security guards usually carry lethal weapons, such as a firearm. They've also undergone multiple licensing procedures and intensive training to prepare for their position's responsibilities. These guards usually work with businesses with an increased risk of crime, e.g., banks, courthouses, large hospitals, or technology firms.
Choosing the Best Event Security
Having a successful event isn't an easy job. It demands a lot of preparation, planning, management, and other things. Since there are so many things to address, you wouldn't want the security of that venue to go wrong. Proper handling of that event and the safety of the guests rely on the event's security.
Instinct Protective has years of experience and extensive training in handling event security. Hiring us for such a service will help keep all guests safe and allow peace of mind throughout the event.